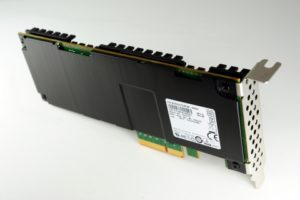 This new flash storage drive is amazing! Building desktops is still a really popular hobby, although some are now building tablets. It's true that the Surface and Apple Air or event the iPad have become big, but there is something to be said for the home builders.
Each component has made incredible improvements, like a solid state drive for instance. And the great thing is that the prices of solid state drives have been falling.
Today, Samsung announced a drive that is sure to excite the DIY computer builder — a 3.2TB PCIe SSD.
From the manufacturer:
"Samsung Electronics Co., Ltd., the world leader in advanced memory technology, today announced that it has started mass producing 3.2-terabyte (TB) NVMe PCIe solid state drives (SSDs) based on its 3D V-NAND (Vertical NAND) flash memory technology, for use in high-end enterprise server systems. The new NVMe PCIe SSD, SM1715, utilizes Samsung's proprietary 3D V-NAND in an HHHL (half-height, half-length) card-type form factor, to offer 3.2TB of storage capacity — doubling Samsung's previous highest NVMe SSD density of 1.6TB", says Samsung.
The manufacturer further explains, "the newly introduced 3.2TB NVMe SSD provides a sequential read speed of 3,000 megabytes per second (MB/s) and writes sequentially at up to 2,200MB/s. It also randomly reads at up to 750,000 IOPS (input output operations per second) and writes randomly at up to 130,000 IOPS. In addition, the 3.2TB SM1715 features outstanding reliability with 10 DWPDs (drive writes per day) for five years. This provides a level of reliability that enterprise server manufacturers have been requesting for their high-end storage solutions".
This drive is probably going to be pretty expensive, but imagine the speed. The size and speed is really impressive.
I'm sure you've already seen SSDs available at your hosting companies, like Go Daddy. They're really moving into big markets and performing well.
With the decline in traditional hard drives, it may just be a matter of time before they actually become obsolete.